House with no Roof
St. Pölten
2006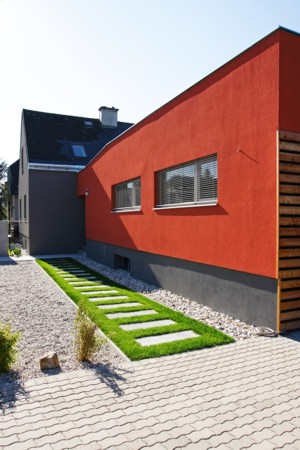 The F. family of St. Pölten had bought an old house, which had an advantageous location but not much else to recommend it. The proposal was made to leave the old well-proportioned part of the building intact and remove the massive gabled roof of the newer part.
The metamorphosis was successful: while the existing structure was largely retained for cost reasons, the dreary Eternit façade was removed to create a modern appearance with better proportions, colour and design. In spite of the difficult situation, a generous, open living space oriented to the garden was created.
The difficult initial situation notwithstanding, it was possible to create a generously proportioned, open living room with a strong connection to the garden, an accentuated entry area, and tailor-made bedrooms with individual baths, thus creating a new and uncompromising home.