Univers Shopping Centre
Tirana, Albania
2003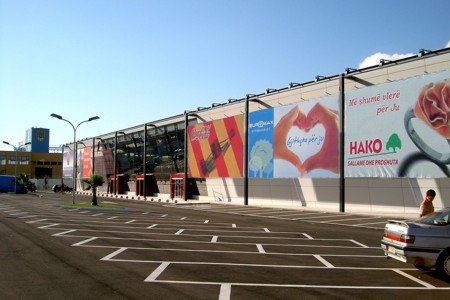 Qendra Tregtare Univers is Albania's first shopping centre. With a total area of 21,000 m2 and selling space of 14,000 m2 it represents a quantum leap in the country's retail business. The shopping centre lies approx. 7 km from the city centre of the capital on the motorway to Durrës, Albania's primary seaport.
Among the specific requirements were an independent infrastructure for fire fighting, a well with a water reservoir, a small sewage plant and a high-performance emergency generator. The planning grid, materials, which came from throughout Europe, and architectural details were adapted to local necessities.
In accordance with the principles of modern retail sales, the large mall has a central food-court, providing access to some 40 shops in the formats S, M, L and XL.