Via Donau – Trade Fair Stand
Messe München
2005 + 2007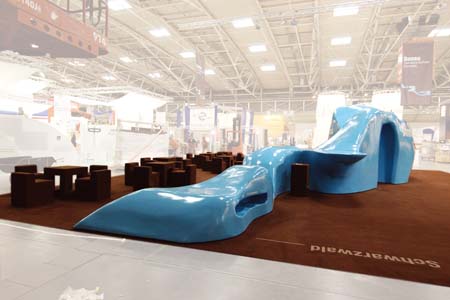 The design concept for Via Donau's trade fair stand should be understood as a visual interpretation of the Danube River's potential. This was accomplished by designing the stand as a sculpture, and the contextual motif was also underscored in the advertising material. The spatial design is based on a wide platform symbolising the Danube region. This platform is dominated by a huge, self-confident sculpture of the river Danube.
Conceptually, the form is based on the conversion of the topographic reality, signalising the steady growth of the river. It also symbolises the Danube as a transport route extending from one end to the other.
This sculpture functions as the nerve centre of the space it dominates, and the design provides all the necessary elements, such as an info-desk, bar with small kitchen and space for terminals and storage of literature.